Posted: March 10, 2014
Filed under:
Miami Dolphins
1 Comment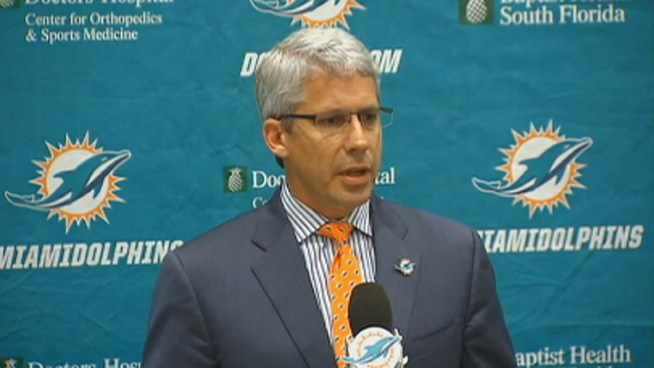 Yes it will cost us money and the good news is we have money to spend again, much credit must go to our capologist she has done a masterful job of managing the money as for a second season we are sitting pretty good with the salary cap rumored to be over 30 million a top five cap number. So the wise thing to do (and it seems Miami is primed to do) is fix the most pressing issue the team faced last season as our offensive line imploded. Miami can now clean house and start over with one player the center piece of the line (Mike Pouncey) the lone ranger on the team. I still want Miami to consider bringing back both Bryant McKinnie and Tyson Clabo as they both did a very good job filling in last season. I do expect Miami to address the line in the draft as well, but if they are wise they will bring in top veteran linemen as it is imperative that that unit gets fixed and rookies will not do, as it takes time to develop rookies especially linemen and Philbin is running out of time.
Dennis Hickey knows his job is not that much safer so he too has too much to lose trusting rookies to come in and fill in on the line. So free agency is the best way to solve the problem for the Dolphins, even though free agency  has not officially started the ability to negotiate has and word is Miami is going hard after some of the top linemen and don't be surprised if they add 2-3 through free agency alone.
Word is Miami is strongly in pursuit of three to four linemen with maybe the hope of landing two at the minimum. Names like Rodger Saffold,  Austin Howard, Chad Rinehart,  Zach Strief,  Davin Joseph,  Branden Albert, and Eugene Monroe are rumored to be on the radar with the latest rumor being Brandon Albert is almost certain to be signed (rumored 10 Million a season).  Miami needs to replace 4 Linemen and still add depth so this offseason will bring just about an entire new set of offensive linemen to Miami.  We will know sometime after 4pm  tomorrow what is truly going on as rumors are ramped. Miami still need to address other position like DT, RB, I would also like to see a tall WR 6′-4″ or more brought in as well.
I have read that the Dolphins might be pursuing Buffalo's Jairus Byrd who would be an upgrade over Chris Clemons. If they land Byrd it will be a double move as we will take away a key player from a division rival and upgrade one of our veteran players who quite frankly have been here long enough and has proven to be no better than average. As you know I am of the opinion it is time to move on from most if not all of our remaining veterans and bring in new blood and it seems so far that this is exactly what is the plan as Miami is not making any offers to the current free agents on the team.
Hickey has a change to make his mark and with an owner who is giving the green light to spend I will say Dennis can quickly become a fan favorite if he solves the very issues that has plagued this team for far to long starting with the Offensive line. Another issue I have been frustrated with is when the team seemed to sign a good player but turn around and let our own talented players walk and I still am puzzled with letting Reggie Bush go. Miami is now in need of a veteran RB in my opinion and I hope that they reach for the best available and Ben Tate is still one player I feel can help the Dolphins out with power running as I have totally given up on Daniel Thomas as he is officially a BUST in my eyes, time to move on!
Well it will not be long as tomorrow sometime after 4 pm  Tuesday March 11th  it will start to unfold  I am excited to see what happens , so far my optimism is high as I have  faith in Hickey and his style and maybe just maybe we will finally have the pieces that will push the Dolphins into the playoffs in 2014.
Go Miami!!!
---